Special Offers
Welcome to Dream Pod 9 Online Store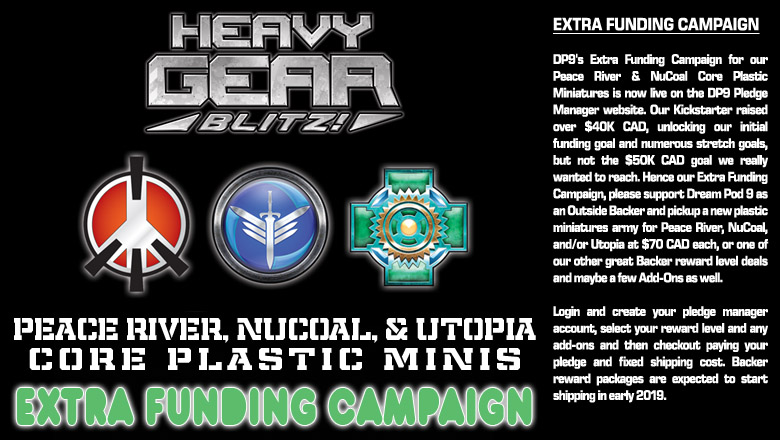 Peace River, NuCoal, & Utopia Core Plastic Miniatures Extra Funding Campaign is Live!
DP9's Extra Funding Campaign for our Peace River & NuCoal Core Plastic Miniatures is now live on the DP9 Pledge Manager website. Our Kickstarter raised over $40K CAD, unlocking our initial funding goal and numerous stretch goals, but not the $50K CAD goal we really wanted to reach. Hence our Extra Funding Campaign, please support Dream Pod 9 as an Outside Backer and pickup a new plastic miniatures army for Peace River, NuCoal, and/or Utopia at $70 CAD each, or one of our other great Backer reward level deals and maybe a few Add-Ons as well. The pledge total will be updated each day on DP9's www.dp9.com website.
Login and create your pledge manager account, select your reward level and any add-ons and then checkout paying your pledge and fixed shipping cost. Backer reward packages are expected to start shipping in early 2019.
. ​
Jovian Wars Spaceship Miniatures Now Available!
Dream Pod 9 Online Store Pod Reward Points
Also remember our Pod Reward Points (Customer Loyalty Reward Points) you'll receive for items purchased on the Dream Pod 9 Online Store, that you can use on your next orders. As a guideline, you will receive 1 point for every $5 to $10 of an item's value, items under $5 don't receive reward points. An order of a $5 to $14.99 product would give 1 reward point, a $15 to $24.99 product would give 2 reward points and so on. The reward points can be used on your next order to reduce the cost of products ordered and/or get them free, depending on the numbers of reward points used.