Dream Pod 9 Online Store
Welcome to Dream Pod 9 Online Store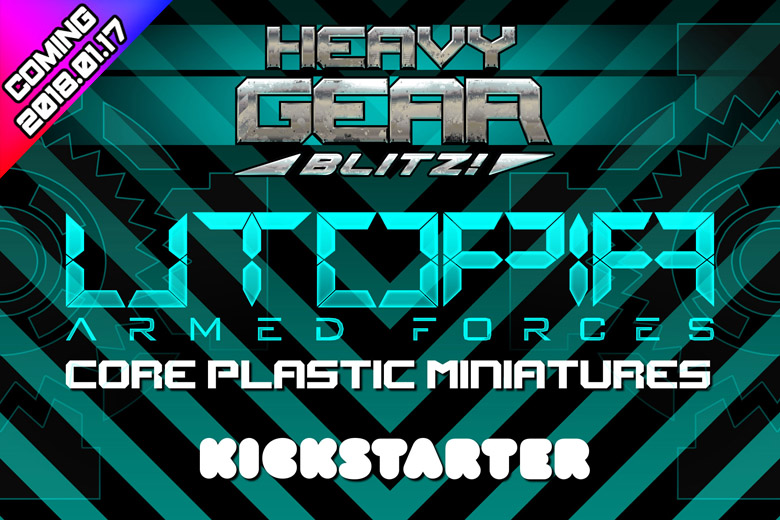 Utopia Armed Forces Kickstarter is Now Live!
We just launched our Heavy Gear Blitz Utopia Armed Forces Plastic Miniatures Kickstarter at 7:02 pm EST today (January 17th, 2018). The Kickstarter campaigns initial goal is to raise $30,000 CAD (about 23K USD) needed to make the plastic injection mold for the new plastic miniatures and backer rewards. The campaign will run for 17 days ending on Saturday evening at 7:02 pm EST (February 3rd, 2018). We need everyone's support to make these new plastic miniatures for the Utopia faction a reality and if you can share news of the Kickstarter with friends and the online community it would be a great help.
We have a great Captain Reward Level at $70 CAD (about $53.85 USD) that includes a Utopia Patch and 3 squads (Strike, Recce, and Support) with a total of 18 plastic miniatures. Stretch Goals, once unlocked, will increase the total to 36 plastic miniatures. Plus higher reward levels add the new MAR-DK drone (resin model) and the large Gilgamesh Command Tank (resin model); see below for artwork and details. Treat yourself to a New Army for the New Year, by clicking the image above or on the link below!
https://www.kickstarter.com/…/heavy-gear-blitz-utopia-armed…
Two additional Kickstarters to make plastic miniatures for the Peace River and NuCoal core models will follow. Backers that support two or more of the individual Kickstarters will be able to have them shipped together for the basic fixed shipping cost.
. ​
Jovian Wars Spaceship Miniatures Now Available!
Dream Pod 9 Online Store Pod Reward Points
Also remember our Pod Reward Points (Customer Loyalty Reward Points) you'll receive for items purchased on the Dream Pod 9 Online Store, that you can use on your next orders. As a guideline, you will receive 1 point for every $5 to $10 of an item's value, items under $5 don't receive reward points. An order of a $5 to $14.99 product would give 1 reward point, a $15 to $24.99 product would give 2 reward points and so on. The reward points can be used on your next order to reduce the cost of products ordered and/or get them free, depending on the numbers of reward points used.