Dream Pod 9 Online Store
Welcome to Dream Pod 9 Online Store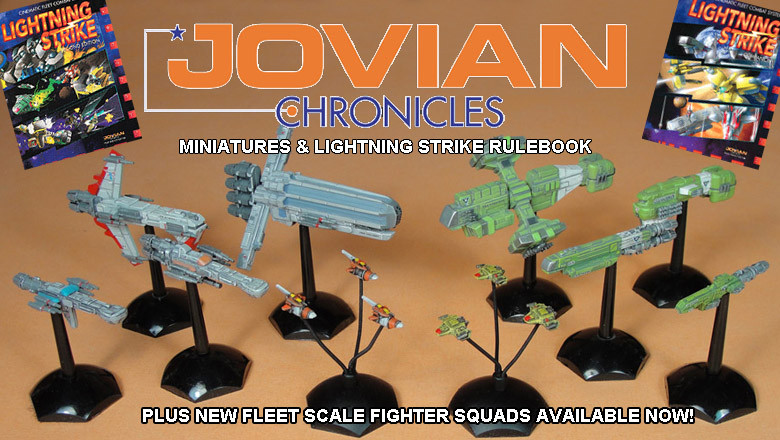 Jovian Chronicles News!
Several years back Phil sculpted some small Fleet Scale Lancer and Wraith Fighters for Jovian Chronicles. They were made for a planned Fleet Scale version of Jovian Chronicles, that was never completed, back around the time we did our Heavy Gear Fleet Scale game. Our thinking at the time was we had some nice looking spaceship miniatures, but the larger size fighter and exo armor minis really looked out of place on the tabletop beside the spaceships. So we though making bases of 3 smaller fighters and exo armors to represent a squad, in a scale closer to that of the spaceships would look a lot cooler. We showed an image back then of the three Fleet Scale Lancer and Wraith Fighters mount on small wire stands and black plastic base, and have been receiving requests from Jovian Chronicles Fans for us to produce these small scale minis for years now.
We finally located the models that had been stored away and added a small ball socket hole on the underside of each of them. Then we designed a new pose-able 3 pronged pewter flight stand, with small balls at the tips to fit the ball socket holes under the small fighters and with a peg at the bottom that fits our black plastic base. These small fighter 2 squad packs are now available to purchase for the first time. If we get enough interest (orders) for the new fleet scale fighters there will be fleet scale exos in the future and maybe a few new spaceships as well. Here is a link to the Jovian Chronicles Miniatures section of the online store for all interested in supporting a rebirth of Jovian Chronicles. Plus, we also have some of the Jovian Chronicles 2nd Edtion Lightning Strike Rulebooks and Companions available for purchase.
Online Store Shipping Costs to increase on February 12th, 2016!
US Post just increased their domestic and international mailing cost on January 17th, 2016 and Canada Post also increased their cost earlier in the month. The Dream Pod 9 Online Store shipping costs are going to be increased on February 12th, 2016 to match the US Post increases. Our basic shipping cost for US and Canadian orders under $100 USD will be increasing from $12.65 UD to $13.45 USD. US and Canadian orders over $100 USD will continue to get free shipping. Our basic flat rate shipping cost for all International orders will be increasing from $24.95 USD to $33.95 USD.
As of October 9th, 2014 we have updated nearly all the prices on the Dream Pod 9 Online Store. Our main goal is to have an everyday lower pricing for our customers and no more special sales in the future. To that point we have lower all book prices by 10% and pewter miniature prices have been lower by 10% to 15% on average (a $20.99USD Two Pack Blister is now $17.99USD). Larger resin and resin/pewter hybrid models have had their prices lowered as much as possible (a Hun Light Tank is now $19.99USD, an Aller Main Battle Tank is $28.99USD and a Naga Strider is now $34.99USD). Costs of resin Badlands Terrain and Stoneheads have been lower by 10%. Decal prices have remained the same as before.
We also removed all the old Heavy Gear Blitz starter boxes, as they included the older rules, and replaced all the faction 5 miniature squad boxes with new lower cost 4 miniature squad packs with more choices available. If your just starting out, we have specially priced Task Force Deals for the North, South, Peace River and NuCoal factions and with more squad add-on options for even more savings. Plus we added new Infantry Pack pack options for North, South, Peace River and NuCoal and some new single pack options for Black Talon, and single infantry options for the North.
At the same time we have also updated our shipping costs, all US and Canadian orders over $100 will receive free shipping, orders less than that will be charged basic shipping of $12.65USD (which is the cost of a US Post Medium Flat rate box), small items orders (pewter parts, decals, patches) that ship in a small padded envelope will cost $3.95USD. For our international customers we have set a new flat rate shipping cost of $24.95USD, so order more as Dream Pod 9 is covering the extra shipping costs on larger orders, to make our products more accessible around the world. International small items orders (pewter parts, decals, patches) that ship in a small padded envelope will cost $7.95USD.
Also remember our Pod Reward Points (Customer Loyalty Reward Points) you'll receive for items purchased from us, that you can use on your next orders. As a guideline, you will receive 1 point for every $5 to $10 of an item's value, items under $5 don't receive reward points. An order of a $5 to $14.99 product would give 1 reward point, a $15 to $24.99 product would give 2 reward points and so on.