Dream Pod 9 Online Store
Welcome to Dream Pod 9 Online Store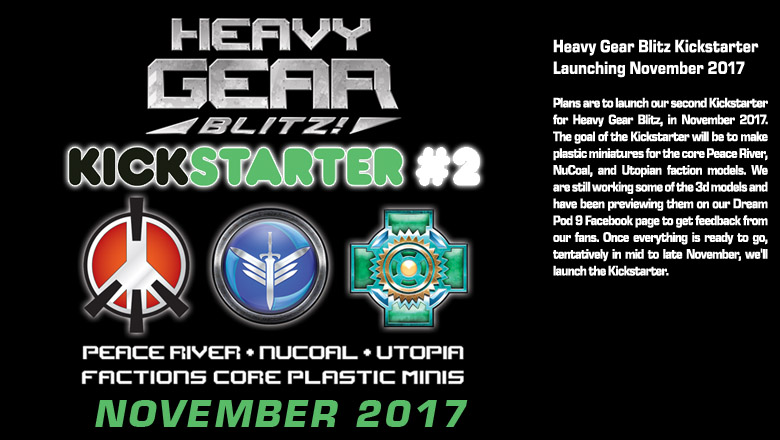 Jovian Wars Pledge Manager Open to Outside Backers & Updated Beta Playtest Rules are Available Now as a Free Download!
We have openned the Jovian Wars Pledge Manager to Outside Backers for a 2 week period endinf Monday Morning May 29th, 2017 here is a link to the Pledge Manager for those interested. The Jovian Wars Kickstarter has been funded and all Stretch Goals Unlocked, here is a link to go check it out. Also the new Jovian Wars - Beta Playtest Rules Package is now available for free download on DriveThruRPG. Click the image or this link to get your copy and try it out.
New Plastic Miniature Army Boxes
The New Edition Quick Start Rulebook, New Heavy Gear Blitz Plastic Miniature Army Boxes (North, South, CEF, and Caprice), and New Two Player Starter Box are now available to order on the Dream Pod 9 Online Store.
HG Fleet Scale and Gear Krieg Minis Available!
The Heavy Gear Fleet Scale miniatures and Gear Krieg miniatures are available again on the Dream Pod 9 Online Store. The HG Fleet Scale miniatures section can be found at the bottom of Heavy Gear Blitz pull menu above, we have a Heavy Gear Fleet Scale Collectors Package available at a special price. The Gear Krieg miniatures are located in the Gear Krieg pull down menu above.
Jovian Chronicles News
Several years back Phil sculpted some small Fleet Scale Lancer and Wraith Fighters for Jovian Chronicles. They were made for a planned Fleet Scale version of Jovian Chronicles, that was never completed, back around the time we did our Heavy Gear Fleet Scale game. Our thinking at the time was we had some nice looking spaceship miniatures, but the larger size fighter and exo armor minis really looked out of place on the tabletop beside the spaceships. So we though making bases of 3 smaller fighters and exo armors to represent a squad, in a scale closer to that of the spaceships would look a lot cooler. We showed an image back then of the three Fleet Scale Lancer and Wraith Fighters mount on small wire stands and black plastic base, and have been receiving requests from Jovian Chronicles Fans for us to produce these small scale minis for years now.
We finally located the models that had been stored away and added a small ball socket hole on the underside of each of them. Then we designed a new pose-able 3 pronged pewter flight stand, with small balls at the tips to fit the ball socket holes under the small fighters and with a peg at the bottom that fits our black plastic base. These small fighter 2 squad packs are now available to purchase for the first time. If we get enough interest (orders) for the new fleet scale fighters there will be fleet scale exos in the future and maybe a few new spaceships as well. Here is a link to the Jovian Chronicles Miniatures section of the online store for all interested in supporting a rebirth of Jovian Chronicles. Plus, we also have some of the Jovian Chronicles 2nd Edtion Lightning Strike Rulebooks and Companions available for purchase.
We also have new Fleet Scale Pathfinder, Hector, Retaliator, Vindicator, Wyvern, Cerberus, Fury, Syreen, Stormrider, and Dragonstriker Exo-Armor Two Squad Packs available for order and shipping now. Plus Brunnhilde Fighters, Ryu, Bonebreaker, and Sakura Exo-Armors Two Squad Packs for the Venus faction.
Dream Pod 9 Online Store Pod Reward Points
Also remember our Pod Reward Points (Customer Loyalty Reward Points) you'll receive for items purchased on the Dream Pod 9 Online Store, that you can use on your next orders. As a guideline, you will receive 1 point for every $5 to $10 of an item's value, items under $5 don't receive reward points. An order of a $5 to $14.99 product would give 1 reward point, a $15 to $24.99 product would give 2 reward points and so on. The reward points can be used on your next order to reduce the cost of products ordered and/or get them free, depending on the numbers of reward points used.