Core Rules & Starter Boxes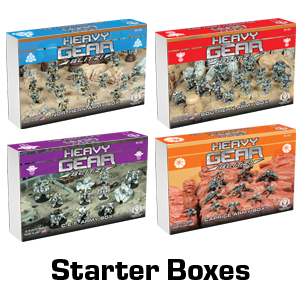 The new Heavy Gear Blitz 3rd Edition Rulebook (Ver. 3.1) is available now, in full color, with all the Rules for the Tabletop Miniature Wargame along with the models list for all the factions included.
Also, a free to download ebook of the new HGB 3rd Ed Rulebook will be available via a link on the Dream Pod 9 Website (www.dp9.com) at the top right corner of the page.
You can pickup our latest rules, two player starter boxes and plastic miniature Army Boxes for the Peace River, NuCoal, Utopia, Northern, Southern, C.E.F., and Caprice factions and some dice below.

Showing 1 to 13 of 13 (1 Pages)